Happy New Year! I just wanted to give you some small updates:
Donation Updates
As promised, 100% of the proceeds from sales of Old Flames through the end of 2020 were donated to helping victims of the Santiam Fire, as well as to a fire prevention and awareness organization. If you are interested in where the donations went went, here's the breakdown:
(Because the need was immediate in September but royalties were not paid for first month's sales until November, these donations were made upfront based on estimated royalties from previous sale records. I have since confirmed that the amount donated exceeded the royalties taken in, so 100% of the proceeds did go to donations.)
I split my donation into three parts. The first was made to Fellowship Church's fire relief fund. I opted for this rather than donating to a larger organization because I wanted to ensure that the funds I donated stayed within the community. Fellowship Church was on the front lines from the day the fire broke out, so I knew that if I gave the money to their fire relief fund, I could verify that it was being used to directly assist those in need within my community. The second donation was made to Oregon Humane Society, who has been sheltering pets who were separated from their families in the fire, seeking to reunite pets and owners, and providing veterinary care for the injured animals. And the last donation was made to Keep Oregon Green, a non-profit focused on fire prevention and public awareness, in the hopes that we can work together to put an end to catastrophic wildfires.
Thank you so much for your support of fire survivors through your purchases of the book!
New Logo + Writing Plans
You may have noticed a slight refresh on the site, as well as in my newsletter. I've updated my logo from being a butterfly to a cute fairy. I love it!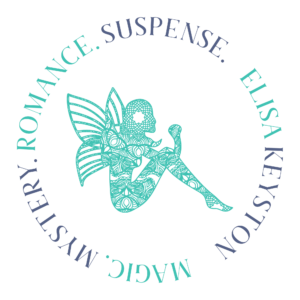 I also streamlined the website to focus on Northwest Magic, which is my flagship series. Here are my writing plans for 2021 and beyond:
For 2021 and the immediate future, my focus is going to be on Northwest Magic: Fool's Gold, the third book in the series (starring Taryn, whom we met in Old Flames) and Stormy Waters, the fourth book, featuring Cass's friend Emma. I also have plans for a fifth novel starring Darcy, and a novella (hopefully this one will stay a novella) called Something Borrowed. Who could that one be about? You'll have to watch this space to find out!
I am also working on a series called Southern Charms, which is a planned trilogy. This one is set in North Carolina and features a sorority of witches who live ordinary lives, run ordinary businesses, fall in love, and also just happen to be responsible for maintaining the balance of the cosmos. You can learn more about it here, and if you're interested in a little sneak peek, I recently shared one in my readers' group on Facebook.
For the time being, my planned second installment to The Pioneer Brides of Rattlesnake Ridge, Sailing from Scotland, is on hold. I may revisit the series in the future, but for right now, historical romance just isn't sparking my imagination. I am really enjoying writing contemporary fantasy romance like Northwest Magic and Southern Charms—hence the logo change—so that's where I want to keep my focus for the foreseeable future.
Here's hoping 2021 will be a lot brighter for everyone than 2020 was!