I've got some catchup posting to do here on the blog! First order of business: I'm pleased to share the full set of new covers for The Pioneer Brides of Rattlesnake Ridge!
If you're a subscriber to my newsletter, you'll have learned that several months ago, the original publisher of this series closed its doors. The rights to the series reverted to the authors, and we decided to republish the books together with all new covers. Keep scrolling to see the lovely new designs by EDH Professionals!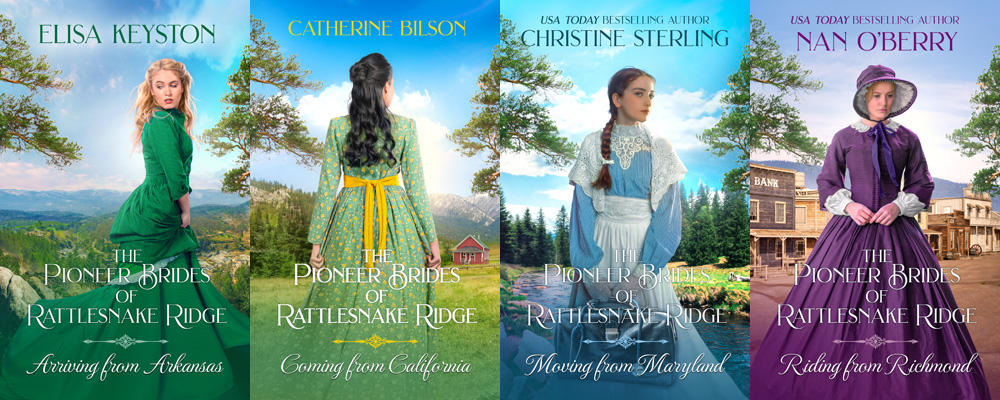 Books 1-4:
Books 5-8:
As a note to any interested readers, these are the same books as were already published by Sweet Promise Press in 2019. All that's changed are the covers. Amazon may not alert you that you already have this book in your Kindle library because the product listing ID has changed, due to us republishing the series. Please be mindful and check your Kindle library by title to ensure you're not buying a duplicate book!
Please also note, Stefanie Bridges-Mikota chose to withdraw her book, Approaching from Arizona, from the series. That title is no longer available. If you'd still like to support Stefanie, though, you can check out her other historical romances here!
The road to getting these books republished was a long and difficult one, and we're still grappling with Amazon to ensure books aren't disappearing off the series page (or off Amazon altogether). Please bear with us as we deal with these hiccups and frustrations.
The first four books of the series are available for you to read now! Books are re-releasing weekly on Fridays for the rest of September.
While we're currently focusing on re-releasing the previously published books, we're excited to announce that all-new books in the series will be coming soon, from return authors and new ones as well. Be sure to watch this space for further information about the series, including the brand new books that are coming soon!