Good news! Despite my downer blog post earlier this month, I finally broke through my writers block and have completed Old Flames! It is now with my editor and is available for preorder now! Thank you all so much for your patience while I worked on this book.
The other exciting bit of news is that the audiobook of Alexandra's Riddle, narrated by Blair Seibert, is available now! You can get it from Amazon and Audible right now, and it will be available on iTunes soon. Learn more and listen to a sample of the audiobook below!
---
About Old Flames
Laney isn't looking for love. She's perfectly happy with the life she's built for herself in the little town of Foreston, Washington. She's a successful businesswoman, the owner of an alterations shop with a clientele across the northwest. She's the chair of the local Victorian house museum's annual fashion show. And she has a reputation for a magic touch: the rumor around town is that anyone who wears one of the period costumes she designs in her spare time will be blessed with good luck.
That's what they say, anyway. Laney knows the truth is a bit more complicated—anything she wills while sewing has a tendency of coming to pass. It's a supernatural gift from the fae who are said to inhabit the woods surrounding the Paine Estate, and it's taught her to keep a guard on her notorious redheaded temper. But keeping her temper becomes difficult when journalist Paul Nelson comes to town to do a feature about the museum. With his stunning good looks and swoon-worthy English accent, Paul is charming, irresistible… and just so happens to be Laney's ex.
Laney wants nothing more than to keep Paul at arm's length, but when she stumbles across a series of break-ins at the museum, she may have no choice but to trust the dashing reporter who once broke her heart to help her catch the culprit. And when a nearby forest fire threatens the safety of the town—and of the woods—will Laney be able to put her old feelings aside in order to protect the magic of Foreston? Or will that same magic lead to an unexpected happy ending?
---
Alexandra's Riddle Audiobook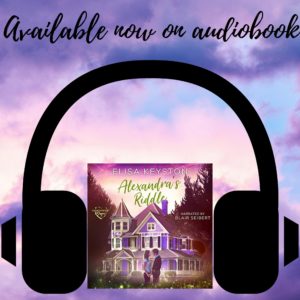 Cass is a drifter. When she inherits an old Queen Anne Victorian in rural Oregon from her great-aunt Alexandra, all she wants is to quickly offload the house and move on to bigger and better things. But the residents of the small town have other plans in mind. Her neighbors are anxious for her to help them thwart the plans of a land developer eager to raze Alexandra's property, while a mysterious girl in the woods needs Cass's help understanding her own confusing, possibly supernatural abilities.
And though little surprises Cass (thanks to her own magical powers of prediction), she never could have anticipated her newfound feelings for the handsome fourth-grade teacher at the local elementary school—feelings that she thought she'd buried long ago. Cass has sworn off love, but Matthew McCarthy is unlike anyone Cass has ever met. If she isn't careful, he could learn her secret. Or worse—he just might thaw her frozen heart.
But falling in love could spell danger for both of them. Because it's not just the human residents of Riddle that have snared Cass in their web. Cass's presence has caught the attention of the fae that dwell in the woods. They know she has the Sight, and they don't want to let her go…
Listen to a sample:
---
About the Series
Lose yourself in the magical forests and charming towns of the Pacific Northwest, where picturesque Victorian homes hide mysteries spanning decades, faeries watch from the trees, and romance awaits… for those bold enough to seek it.
With its unique blend of small-town romance, cozy mystery, and light fantasy, the Northwest Magic series is sure to delight anyone who believes in faery gifts and happily-ever-afters. Read FREE in Kindle Unlimited and get lost in the magic now!