Merry Christmas! I know it's been a while since I posted. My chronic health problems have really been a pain this year. Thanks to that and a bout of writer's block, I'm behind on Old Flames, which was meant to be my last release of 2019 but is looking to likely be my first release of 2020 instead. But it is coming, and I've got exciting news about the next Northwest Magic book, Fool's Gold, as well as something new from Sweet Promise Press. Stay tuned!
In the meantime, I'm continuing my tradition of reviewing Hallmark Christmas movies for you all. These are the movies I watched this year. Bear in mind, these aren't all new-for-2019 movies, they're just movies I'd never seen before this year.
Nine Lives of Christmas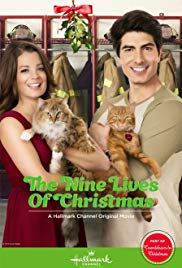 Network: Hallmark
Release Date: 2014
Starring: Kimberly Sustad and Brandon Routh
This was the first Christmas movie I watched this year and it stood out as one of my favorites ever! I haven't seen a lot of Hallmark movies with a focus on pets, and most of the ones I've seen have dogs instead of cats. But I am a cat lady! (Well, I'm also a dog lady. But I think I'm a bit more of a cat lady.) So seeing kitties take the spotlight was wonderful! I loved seeing how Zachary was changed by his cat. Marilee was such a likable heroine. Everyone at the fire station was so funny and reminded me of the dynamic of real firefighters and police officers (my uncle is a retired firefighter and my dad is a retired cop). This was a definite favorite!
Overall rating: 😀
A Christmas Miracle
Network: Hallmark Movies & Mystery
Release Date: 2019
Starring: Tamera Mowry-Housley and Barry Bostwick
This is a tough one for me to review. I really liked the cast; I especially love Tamera Mowry-Housley and it was great seeing her acting again since I feel like she doesn't get as many roles as her sister these days. I thought her kid was cute, I liked the love interest, and I thought they had a great dynamic. The plot with the magazine was also really interesting. Unfortunately, all of this was overshadowed by the Santa Dean subplot. I really didn't like Dean or that whole subplot, and it wound up dominating the entire movie. Everything else that was so great about it was just taken over by Dean, Dean, Dean. As much as I liked the other elements of the movie, I wouldn't watch this movie again because of that. I hope Tamera will be in more Christmas movies in the future, because I loved her (and the rest of the cast, tbh), this one just missed the mark for me.
Overall rating: 😐
12 Gifts of Christmas
Network: Hallmark
Release Date: 2019
Starring: Katrina Law and Aaron O'Connell
This one was cute but I feel bad because I'm having trouble remembering it—there were elements of it that were similar to another movie I watched this year, Christmas Made to Order, and since I watched that one more recently, the details are starting to blur in my mind. This one featured the same actress as from Snow Bride, one of my favorites from last year. The heroine had a fun relationship with her sister which I enjoyed. I didn't really understand why she was so drastically opposed to commercial art, but my own sister was originally an art major intending on becoming a commercial artist (she wound up having to change majors because she was violently allergic to most of the mediums required for the major, such as charcoal and oil paint) and she said she got a lot of judgment for not being interested in True Pure Uncorrupted Art, so she wasn't surprised that our heroine was so brainwashed. I did side with the heroine in the Final Act Conflict, though; I wanted to see her artwork used and recognized, but what the hero and the heroine's sister did was way out of line in my opinion. Anyway, this one was cute. It wasn't my favorite of the season, but it also wasn't my least favorite.
Overall rating: 🙂
Christmas Under the Stars
Network: Hallmark
Release Date: 2019
Starring: Autumn Reeser and Jesse Metcalfe
This was possibly my favorite movie this year. It had such an intricate plot, and even seemingly unrelated things wound up coming together to be so meaningful to the story. A lot of times Hallmark movies can be pretty formulaic, so there were assumptions I had when the movie started—for example, that Nick was going to be a jerk or a diva about going from being a wealthy investment banker to having to work a minimum wage job at a Christmas tree lot. But he wasn't! He was earnest from the beginning and tried his best, even if he was a little awkward about it at first. Likewise, at this point I could make a Bingo card for Hallmark movies with one of the spaces being single parent, so the whole time I was just waiting to find out whether Julie was divorced or widowed. So I was really taken aback when it turned out she was neither; she was a foster parent who'd fallen in love with her first foster kid and adopted him. That really spoke to me as a single person who's considered fostering. Clem was amazing, and his connection to Julie's parents as well as his own storyline about honoring his late wife's wishes or following his own dream was so moving. And everything worked out so well! This was just such a good, good movie. If you like your romance to be a little more plot-driven but still full of happily ever afters, I can't recommend this movie enough.
Overall rating: 😀
Christmas Made to Order
Network: Hallmark
Release Date: 2018
Starring: Alexa PenaVega and Jonathan Bennett
This one had a lot of similar notes to 12 Gifts of Christmas, so they're already starting to blend together in my mind. I liked the cast of this one a lot. I thought their makeup was kind of oddly done, and that's not something I usually notice in movies so it must have been really been prominent. I liked the hero's family and I liked the heroine's aunt and her cool lodge—where do I get a relative with a business like that? I thought it was really funny that the heroine's ex-boyfriend was portrayed by Alexa PenaVega's real-life husband Carlos, who usually plays her leading man in most other Hallmark movies. That was a fun Easter egg. Toward the end my sister and I were groaning as the emphasis on following one's dreams was veering into impractical territory. She had an opportunity for a job that let her do exactly what she wanted, she would just be an employee instead of the business owner. So? That would have let her build up a resume and connections in her field, which would have put her in a better position to start her business later on. And then she got him to quit his job, too! Enjoy being unemployed for Christmas! I know that Hallmark movies are all about suspension of disbelief and happily-ever-afters, but that HEA was just a little too unbelievable for me, haha.
Overall rating: 🙂
---
And that was my Hallmark round-up for 2019! Did you watch any Hallmark/Lifetime/Netflix Christmas movies this year? What were your favorites?