Happy Boxing Day! I hope you all had a very Merry Christmas. I had big plans for this holiday season, but then I got hit with a bad cold that knocked me and my family all out for most of the month of December. 🙁
One of my plans was to watch a LOT of Hallmark Christmas movies… and Lifetime Christmas movies… and Netflix Christmas movies… and review them all for you here. I got an early start, which is basically the only reason I have anything to share with you now! Here is a round-up of the movies I was able to watch this year. I guess the rest will have to wait for next year, but that does give me something to look forward to!
Christmas Cookies
Network: Hallmark
Release Date: 2016
Starring: Jill Wagner and Wes Brown
The first movie I watched this season was Christmas Cookies, which put me in the mood for Christmas cookies… but it was only the beginning of November when I watched this, which meant I couldn't just run to Trader Joe's if I wanted them, I'd have to make them myself. The story took place in a small town called Cookie Jar, which was cute. The heroine was a woman who works for a big company (I think almost every movie I watched this year was that) that wanted to buy out a small cookie company. The premise was cute, but I didn't connect with the heroine and didn't see why the hero and all the people in the town liked her so much, so quickly.
Overall rating: 😐
I'm Not Ready For Christmas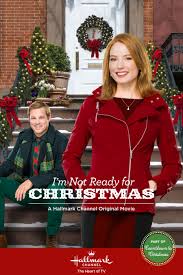 Network: Hallmark
Release Date: 2015
Starring: Alicia Witt and George Stults
This was the second movie I watched this year and one of my favorites! It was about a compulsive liar whose niece makes a wish to Santa, magically making her only able to tell the truth from now on. The love interest was a teacher at the niece's school. I LOVED IT. Absolutely hilarious, really liked the couple, and Brigid Brannagh played the heroine's sister and I love her. I also really liked the niece and the Salvation Army Santa who turned out to be the real thing, and his hilarious reactions when Holly and her niece kept running to him for advice.
Overall rating: 😁
Crown for Christmas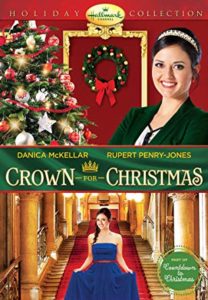 Network: Hallmark
Release Date: 2015
Starring: Danica McKellar and Rupert Penry-Jones
This is possibly my favorite movie of the holiday season (or maybe tied with the next one).  LOOOOOVE. It was basically the plot of The Sound of Music (one of my favorite movies), only with one kid instead of seven, and the hero is a king! It starred Danica McKellar, who I LOVE and is also one of my sorority sisters. 💎🦁 The fictional kingdom the story was set in was filmed in a beautiful location. The main characters were lovable and the side characters as well. I got super emotionally invested in this one.
Overall rating: 😁
Snow Bride
Network: Hallmark
Release Date: 2013
Starring: Katrina Law and Jordan Belfi
AAAAAAHHH I loved it!!! Hilarious, appealing hero and heroine, lots of lovable side characters. This one is about a gossip reporter who goes to get a scoop on a wealthy political family and winds up befriending them and falling for one of their sons instead. I loved the heroine, she was so snappy and funny, and when it got to the part where I knew the truth was going to have to come out I was squirming in my seat because I loved them all so much I didn't want to see how the train wreck unfolded. But then there was a SURPISE!! resolution that made everything work out so much better than I expected! I laughed, I squealed, I screamed at the TV a lot. I loved this one so much, it's just the sort of story I would have liked to have written myself!
Overall rating: 😁
A Very Nutty Christmas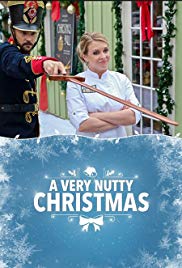 Network: Lifetime
Release Date: 2018
Starring: Melissa Joan Hart and Barry Watson
Spoilers!
I am SO MAD about this one. I loved 95% of it. It was so funny, it was so cute. I loved the cast, I loved the characters. I loved the side romance. I loved the main romance. I loved the story. I loved the humor. I loved the music. IT HAD EVERYTHING.
And then the ending happened. And I'm sorry, Lifetime, but IT DOES NOT COUNT AS A HAPPY ENDING if the couple are separated and the heroine gets with some other random guy in the last five minutes of the movie! No! There are about a thousand ways they could have ended this better, but they didn't and I'm angry and I'm not going to trust Lifetime again.
Overall rating: 😠
A Gingerbread Romance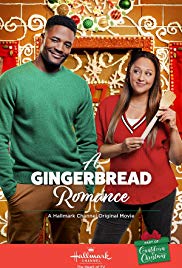 Network: Hallmark
Release Date: 2018
Starring: Tia Mowry-Hardrict and Duane Henry
This wound up being the last movie I watched this year, and it was a good note to go out on! Going back to Hallmark was a good choice. 😅 Another story about a busy businesswoman, this one an architect, who gets assigned to a giant gingerbread house-building competition in order to get a promotion. Through the competition she meets an artistic baker who's also a single dad. His daughter was so adorable, and I loved the main characters as well as the side characters. The storyline about the gingerbread house contest was super fun and I LOVED the house they designed. I also loved the way both leads' stories worked out. I won't say more because spoilers but it was great especially to see how it worked out for the guy! This is another Christmas fave for me, and a huge improvement over the last one I watched!
Overall rating: 😁